About Us
Long Island Sound Fishing
Open Boat & Private Charters
631-278-3725
The LORI C. sails May through December from Stony Brook. We concentrate on fishing for all species in season including Fluke, Striped Bass, Blackfish, Bluefish, Porgies and Flounder with combo trips being our specialty. The vessel runs on an "Open Boat" schedule, allowing 1 to 6 passengers to make reservations on morning, afternoon or evening trips. Customers may also charter the boat at these times, or customize desired hours. Reservations are required for all trips and can be made by calling the office at 631-278-3725.
The boat is a 25' Parker Sportcabin powered by a Suzuki 250 hp four stroke engine that ensures a fast, safe ride to the fishing grounds. It offers a wide beam and an open, dry cockpit with plenty of fishing room, as well as cabin shelter from the elements. It is loaded with the latest marine electronics including a Fishfinder, GPS, Radar, and VHF radios. The LORI C. is fully licensed and insured.
comfortable, intimate environment
families, groups, single passengers
professional advice
custom rods and tackle
catch cleaned and bagged
There are just two very important rules:
Rule #1: Beer is okay-No HARD ALCOHOL allowed on board. Period.
Rule #2: No GPS or handheld navigation device allowed. If found on board, trip will be terminated immediately-- no refunds. .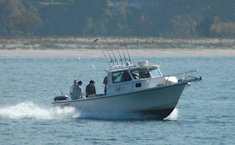 For up-to-date
fishing reports,
"like" us on facebook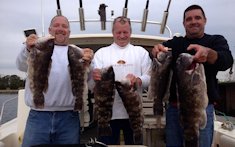 Stony Brook's Premier Open Boat and Charters